NEWS
---
Tweet

PDIC forges cross-border cooperation with Deposit Insurance of Vietnam


November 23, 2018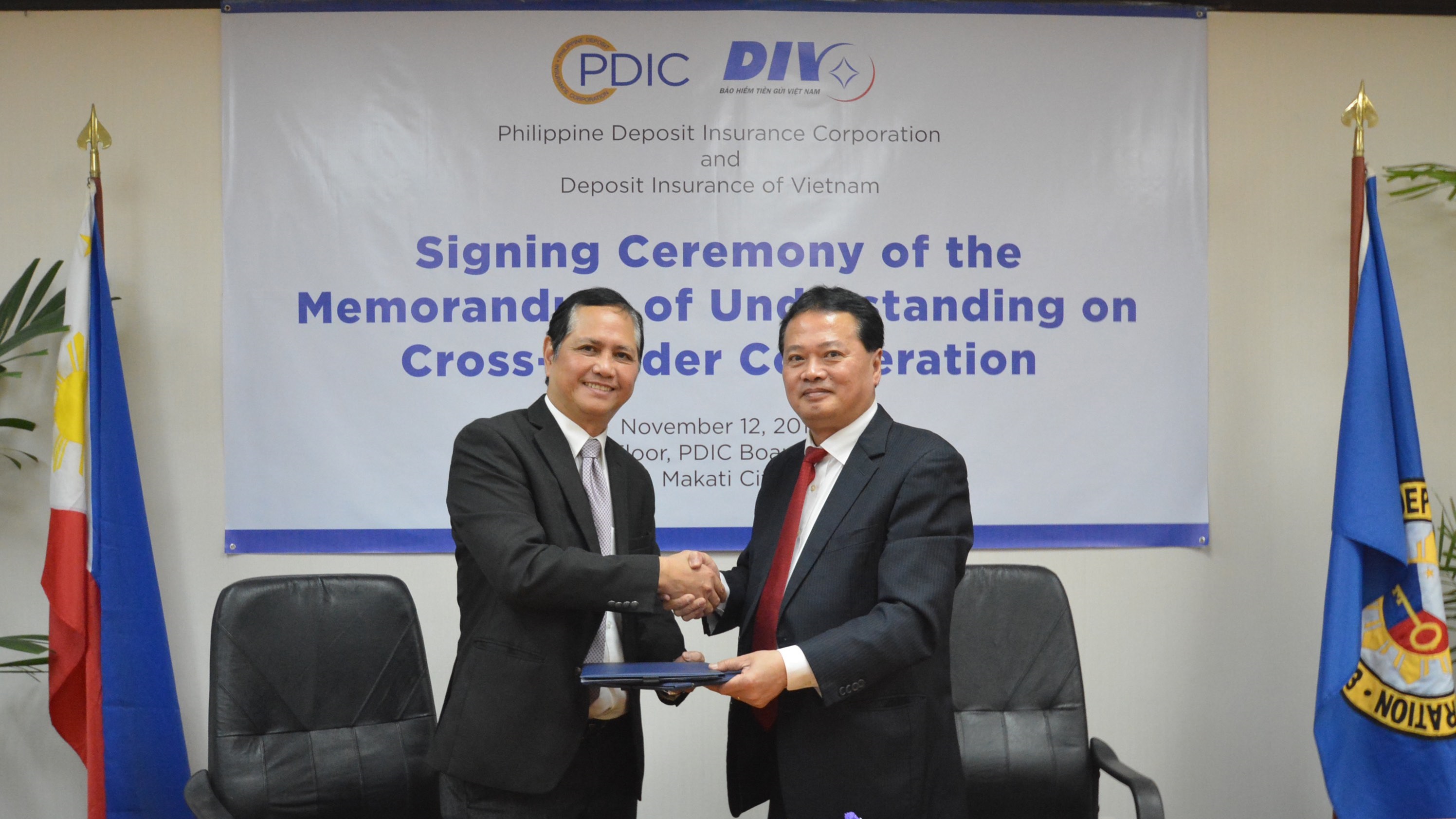 STRONGER COLLABORATION. The Philippine Deposit Insurance Corporation (PDIC) and the Deposit Insurance of Vietnam (DIV) signed an agreement to strengthen cross-border cooperation on deposit insurance on November 12, 2018. The Memorandum of Understanding (MOU) was signed by PDIC President Roberto B. Tan and DIV Chairman Nguyen Quang Huy at the PDIC Office in Makati City. Under the MOU, PDIC and DIV shall undertake knowledge and experience-sharing to mutually enhance the effectiveness of their respective deposit insurance systems. The agreement also provides for the exchange of views on the impact and implementation of international standards, as well as reinforce cooperation on deposit insurance issues. The MOU, effective for five years, may be extended for another five years upon written consent by both deposit insurance agencies (DIAs). Both PDIC and DIV are members of the International Association of Deposit Insurers (IADI) and the MOU is consistent with the Core Principle on Cross Border Cooperation which promotes formal information-sharing and coordination arrangements among DIAs in relevant jurisdictions. PDIC had earlier forged collaboration with its counterparts from Indonesia, Japan, Korea, Malaysia, Thailand, Russia, the United Kingdom, and the USA.
* * * * *
The Philippine Deposit Insurance Corporation (PDIC) was established on June 22, 1963 by Republic Act 3591 to provide depositor protection and help maintain stability in the financial system by providing deposit insurance. Effective June 1, 2009, the maximum deposit insurance coverage is PHP500,000 per depositor. All deposit accounts by a depositor in a closed bank maintained in the same right and capacity shall be added together. A joint account shall be insured separately from any individually-owned deposit account.
PDIC news/press releases and other information are available at the website, www.pdic.gov.ph.
back