NEWS
---
Tweet

Former Assistant Govít Corporate Counsel joins PDIC Board


April 17, 2017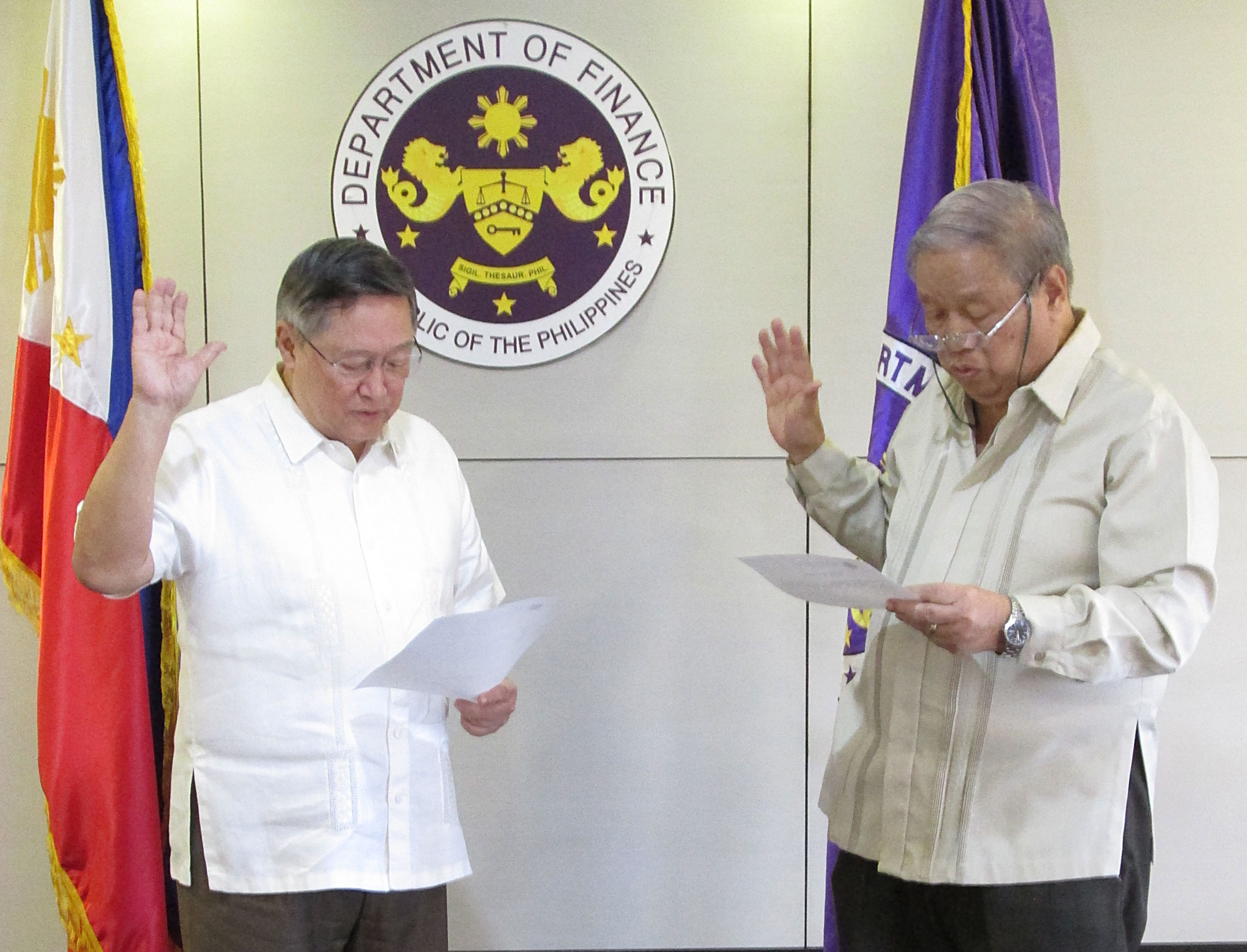 New PDIC Director takes oath of office. Department of Finance (DOF) Secretary and Philippine Deposit Insurance Corporation (PDIC) Chairman Carlos G. Dominguez III administers the oath of office of Atty. Reynaldo Felix Tansioco as Director of the PDIC Board representing the Private Sector, in simple ceremonies at the DOF office on March 24, 2017.
The Philippine Deposit Insurance Corporation (PDIC) announced the appointment of Atty. Reynaldo F. Tansioco as a member of the PDIC Board of Directors, representing the private sector. In simple ceremonies at the Department of Finance (DOF), Atty. Tansioco took his oath of office before Finance Secretary and PDIC Board Chairman Carlos G. Dominguez III on March 24, 2017.
A CPA-lawyer with a Masterís Degree in Senior Management, Atty. Tansioco was Assistant Government Corporate Counsel at the Office of the Government Corporate Counsel for 10 years from 1999 to 2009 prior to joining PDIC. He also previously worked as Legal Officer at the Strategic Investment Development Corporation (SIDCOR) from 1987 to 1999 and served as agent of the National Bureau of Investigation and the General Auditing Office now Commission on Audit. Atty. Tansioco likewise worked at the Philippine National Bank as a branch lawyer.
He graduated with a Bachelorís degree in Commerce from the University of the East and earned his law degree from San Beda College. He has a Masterís degree in Senior Management, which he earned from the Graduate School of the Ateneo de Manila University.
Atty. Tansioco completes the four private sector representatives to the PDIC Board together with Mr. Rogelio M. Guadalquiver, Atty. Eduardo M. Pangan, and Ms. Anita Linda R. Aquino.
Under Republic Act No. 10846, the amended PDIC Charter that took effect on June 11, 2016, PDIC's Board composition increased from five to seven, with the addition of two more directors from the private sector. PDIC is headed by the Secretary of Finance as ex-officio Chairman. The PDIC President serves as Board Vice Chairman and the Bangko Sentral ng Pilipinas (BSP) Governor is ex-officio Board member.
* * * * *
The Philippine Deposit Insurance Corporation (PDIC) was established on June 22, 1963 by Republic Act 3591 to provide depositor protection and help maintain stability in the financial system by providing deposit insurance. Effective June 1, 2009, the maximum deposit insurance coverage is P500,000 per depositor. All deposit accounts by a depositor in a closed bank maintained in the same right and capacity shall be added together. A joint account shall be insured separately from any individually-owned deposit account.
PDIC news/press releases and other information are available at the website, www.pdic.gov.ph.
back