NEWS
---
Tweet

AMA Bank remains closed – PDIC


NEWS/PRESS RELEASE
PR-015-20
Date of Release: January 23, 2020
FOR IMMEDIATE RELEASE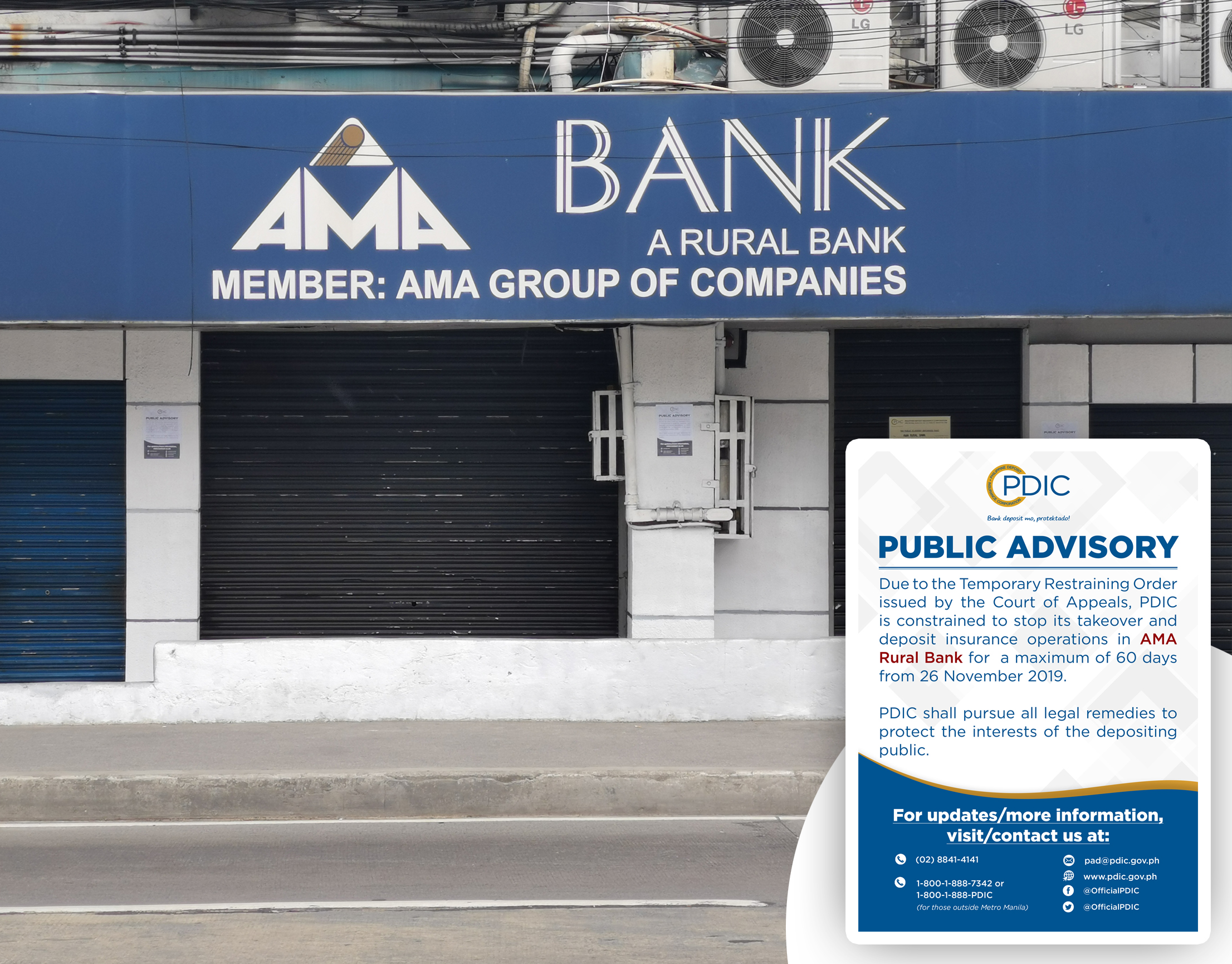 The Philippine Deposit Insurance Corporation (PDIC) reminds all depositors, creditors and borrowers of the closed AMA Rural Bank of Mandaluyong, Inc. (AMA Bank) that the bank remains closed and under PDIC liquidation. While PDIC stopped its deposit insurance and liquidation operations due to the Temporary Restraining Order (TRO) issued by the Court of Appeals on November 25, 2019, PDIC shall resume its activities once the TRO expires on January 25, 2020 and no writ of preliminary injunction has been issued. PDIC assured depositors that it is committed to pay the insured deposits maintained in AMA Bank despite the challenges caused by the refusal of the Bank's officers and employees to properly turn over bank records to PDIC. Depositors, borrowers, creditors and all other clients of AMA Bank are advised to visit www.pdic.gov.ph for updates.
* * * * *
The Philippine Deposit Insurance Corporation (PDIC) was established on June 22, 1963 by Republic Act 3591 to provide depositor protection and help maintain stability in the financial system by providing deposit insurance. Effective June 1, 2009, the maximum deposit insurance coverage is PhP500,000 per depositor. All deposit accounts by a depositor in a closed bank maintained in the same right and capacity shall be added together. A joint account shall be insured separately from any individually-owned deposit account.
PDIC news/press releases and other information are available at the website, www.pdic.gov.ph.
Corporate Communications Dept.
PHILIPPINE DEPOSIT INSURANCE CORPORATION
Tel: (02) 8841-4636 to 39
Trunkline: (02) 8841-4000
Website: www.pdic.gov.ph.
Email: ccd@pdic.gov.ph
Facebook: www.facebook.com/OfficialPDIC
Twitter: www.twitter.com/OfficialPDIC
back