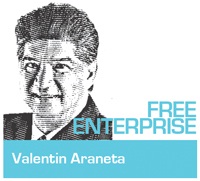 THE aggressive stance that China has displayed toward the Philippines over what is clearly Philippine territory according to international law is quite inconsistent with its effort to pursue the development of economic and political ties with emerging-market countries by using its economic power. The thrust of China and Chinese enterprises to expand trade through investments and "soft loans" is driven by the needs of its fast-growing economy for consumption and more production.

Trade has been the engine of economic growth of China during the past 30 years and this has been achieved in parallel with the cultivation of good diplomatic relationships with most countries, especially its Asian neighbors. China has even gone to the extent of making several billions of dollars of export advances to Venezuela and bankrolling an oil pipeline to Kazakhstan for their oil. These are just a few examples of China's economic thrusts for access to commodities. The Philippines as a neighbor country has seen the appetite of China for the need to access commodity supplies such as in minerals and agricultural products. China has become the Philippines third-biggest trade partner after Japan and the United States.

In fact, we are actually now seeing China opening up direct economic relationships with Taiwan. Taiwanese enterprises have actually been the biggest investors in China but through other territories especially Hong Kong. Now there are direct flights between China and Taiwan and mainland Chinese banks have already been approved to have branches in Taiwan. The remarkable thing is that this has occurred while the China is claiming Taiwan as part of its sovereign territory, while Taiwan is denying it and there exists no formal diplomatic relations between them.

The enigmatic face of China

China has to trade not only to sustain its rapid economic growth but also to survive. Its domestic market is huge and still growing. But the inland western regions are still relatively undeveloped and the in the process of transition into an industrial society. It is therefore difficult to understand why it should display its aggression on such a militarily weak country that would get its other trading partners very nervous and wary of China's ultimate intentions. It is ostensibly a major diplomatic blunder just to protect fishermen who poached endangered species of marine life for delivery to exotic food restaurants. This also makes it a blunder with the environmentalists. Granted that there is believed to be petroleum and gas in the area, could they not just negotiate the exploration of the area with the Philippines as a joint venture seeing as how it has been quite active in doing such joint ventures in already proven reserves around the world? The risks to China seem to far outweigh the economic benefits that it could realize from military aggression against the Philippines for the Scarborough Shoal. This is particularly apparent from the perspective that it is investing all around the world in enterprises that will legally give it access to the resources that it needs to keep its fast-growing economy.

China is indeed a country of enigmas. Under a communist regime, it has become the world's second-biggest economic power on the back of market oriented and capitalist driven economic policies. Now it is risking alienating its trading partners by showing aggression to a neighbor that practically has no means to defend itself against China's mighty armed forces. The rich political and cultural heritage of China must be able to see beyond all of the noise and static that its functionaries have caused over the Scarborough Shoal. For the Philippines it seems best to stand firm and not to blink as the Chinese leadership settles down and figures out what is in accordance with the ""RULE OF LAW" that they have been ardently professing.

________________________________

* Written by PDIC President Valentin A. Araneta for Free Enterprise and published in the Businessmirror on April 25, 2012. Mr. Araneta writes for the Free Enterprise column as a member and officer of the Financial Executives of the Philippines (Finex). Requests for his past articles may be coursed through ccd@pdic.gov.ph.