NEWS
---
Tweet

PDIC receives a Silver Anvil for outstanding Annual Report


March 5, 2020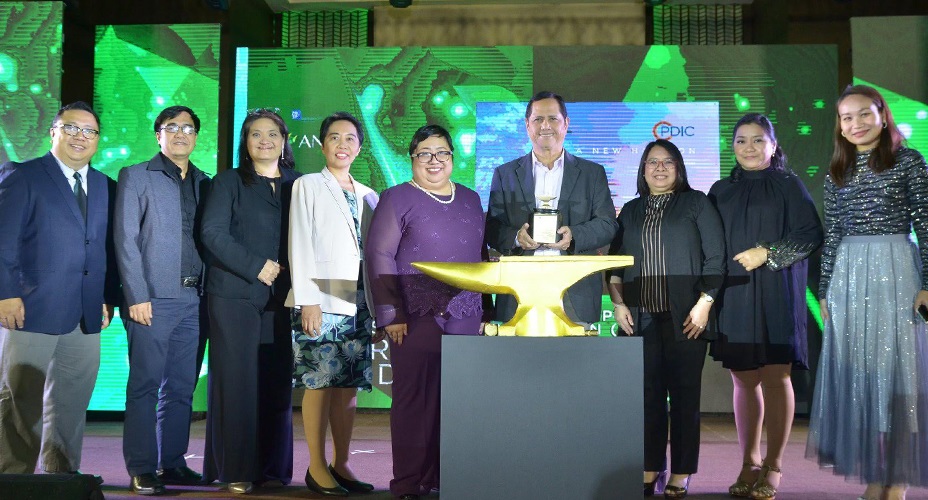 Silver Anvil for outstanding Annual Report. The 2018 Annual Report of the Philippine Deposit Insurance Corporation (PDIC) was awarded a Silver Anvil during the Public Relations Society of the Philippines' (PRSP) 55th Anvil Awards (Gabi ng Parangal) held on February 28, 2020 at the Manila Hotel. Entitled, "A New Horizon", the Annual Report was recognized for showcasing various measures to strengthen the organization, promote good governance and employee empowerment. PDIC President Roberto B. Tan (4th from right), joined by the members and secretariat of its Editorial Board, received the award from PRSP Members Edgar Timbungco, APR (leftmost) and Abigail Ho-Torres (rightmost), on behalf of the Corporation. The PDIC continues with its winning tradition for communication and public relations tools and programs to support the corporate vision to be recognized for operational excellence. The PDIC Annual Reports for 2016 and 2015 were recognized by the PRSP with a Gold Anvil in 2018; and a Silver Anvil in 2017, respectively. The Corporation also received Anvil awards for the successful hosting of the 14th Annual Meeting and International Conference of the Asia-Pacific Regional Committee of the International Association of Deposit Insurers in Iloilo City in 2017 (Silver Anvil), its official newsletter, Intercom, in 2016 (Silver Anvil); and financial literacy guidebook, Usapang Pera: Mga Dapat Alamin in 2014 (Merit Award).
* * * * *
The Philippine Deposit Insurance Corporation (PDIC) was established on June 22, 1963 by Republic Act 3591 to provide depositor protection and help maintain stability in the financial system by providing deposit insurance. Effective June 1, 2009, the maximum deposit insurance coverage is PhP500,000 per depositor. All deposit accounts by a depositor in a closed bank maintained in the same right and capacity shall be added together. A joint account shall be insured separately from any individually-owned deposit account.
PDIC news/press releases and other information are available at the website, www.pdic.gov.ph.
Corporate Communications Dept.
PHILIPPINE DEPOSIT INSURANCE CORPORATION
Tel: (02) 8841-4636 to 39
Trunkline: (02) 8841-4000
Website: www.pdic.gov.ph.
Email: ccd@pdic.gov.ph
Facebook: www.facebook.com/OfficialPDIC
Twitter: www.twitter.com/OfficialPDIC
back