NEWS
---
Tweet

PDIC holds Convergence for Iloilo bankers and business group


NEWS/PRESS RELEASE
PR-127-19
Date of Release: August 27, 2019
FOR IMMEDIATE RELEASE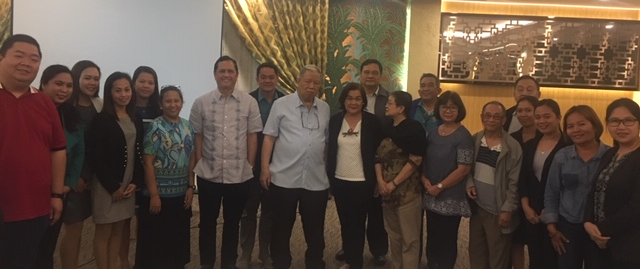 Stronger partnership with banks and business groups. Philippine Deposit Insurance Corporation (PDIC) President Roberto B. Tan (7th from left) and Director Reynaldo F. Tansioco (9th from left) lead the Convergence in Iloilo City – a partnership meeting with bankers and business groups in Iloilo City. Held on August 8, 2019, the discussion explored how PDIC and the banking and business community can work together to further build depositor confidence and provide improved financial services for the depositing public.
The Philippine Deposit Insurance Corporation (PDIC) conducted Convergence in Iloilo City, a partnership meeting with members of the Iloilo Federation of Rural Banks, Bankers Association of Iloilo and Philippine Chamber of Commerce and Industry – Iloilo Chapter on August 8, 2019.
Convergence is an initiative aimed at collaborating with bankers and business groups to help build depositor confidence in the banking system. Convergence in Iloilo City enabled PDIC to discuss how it supports the banking and business communities by implementing bank strengthening programs, promoting the adoption of digital technology, and providing business opportunities through data availability for market analysis.
PDIC likewise presented its new logo and tagline, "Bank deposit mo, protektado!" to increase public awareness on deposit insurance and support confidence-building measures for the public. The Corporation also shared with the banks and business groups its flagship financial literacy advocacy, the Be a Wise Saver (BAWS) campaign which aims to educate students on safe and responsible financial habits that they will hopefully carry with them when they eventually join the workforce.
Another initiative discussed was the Consolidation Program for Rural Banks (CPRB), which aims to encourage rural banks to merge and consolidate to improve financial strength, strengthen governance, and expand market reach. CPRB will be in effect until October 26, 2019. In his message to the bankers, PDIC President Roberto B. Tan said that the Corporation encourages banks and business groups to participate in asset disposal activities where they can acquire properties through public biddings or negotiated sale. These properties, in turn, may help them in their business expansion plans.
The Convergence in Iloilo City followed the successful run of Convergence with Davao Bankers held in June 2019. PDIC aims to sustain the conduct of consultation meetings with various stakeholder groups nationwide to engage them as partners in promoting depositor protection and financial stability.
* * * * *
The Philippine Deposit Insurance Corporation (PDIC) was established on June 22, 1963 by Republic Act 3591 to provide depositor protection and help maintain stability in the financial system by providing deposit insurance. Effective June 1, 2009, the maximum deposit insurance coverage is PhP500,000 per depositor. All deposit accounts by a depositor in a closed bank maintained in the same right and capacity shall be added together. A joint account shall be insured separately from any individually-owned deposit account.
PDIC news/press releases and other information are available at the website, www.pdic.gov.ph.
Corporate Communications Dept.
PHILIPPINE DEPOSIT INSURANCE CORPORATION
Tel: (02) 841-4637 / Fax (02) 841-4833
Trunkline: (02) 841-4000
Website: www.pdic.gov.ph.
Email: ccd@pdic.gov.ph
Facebook: www.facebook.com/OfficialPDIC
Twitter: www.twitter.com/OfficialPDIC
back