NEWS
---
Tweet

PDIC signs cooperation agreement with Russian counterpart


June 5, 2018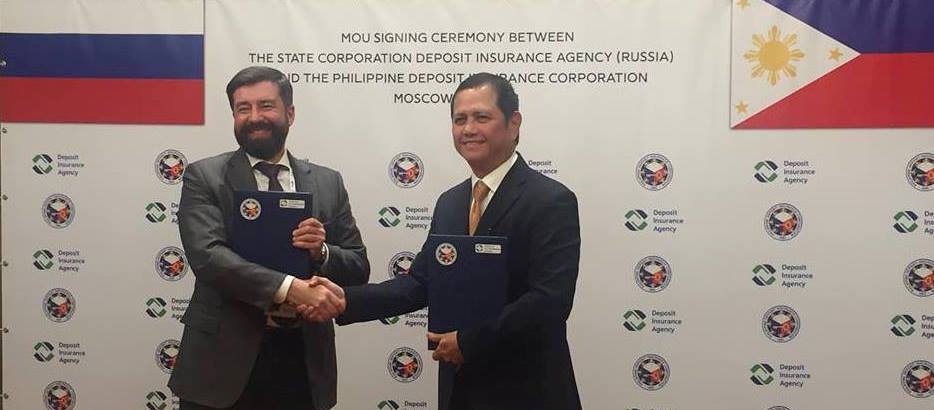 STRONGER COLLABORATION. The Philippine Deposit Insurance Corporation (PDIC) and the State Corporation Deposit Insurance Agency Russian Federation (DIA) signed an agreement on cross border cooperation on May 29, 2018 in Moscow, Russia. The Memorandum of Understanding (MOU) was signed by PDIC President Roberto B. Tan and DIA Russia General Director Yury O. Isaev at the sidelines of the 55th Executive Council Meeting and International Conference of the International Association of Deposit Insurers (IADI). Under the agreement, PDIC and DIA Russia shall engage in the exchange of knowledge, experience and views on the implementation of internal standards towards a more effective deposit insurance system for both agencies. The MOU shall be effective for five years. This collaboration is in line with the IADI Core Principle on Cross Border Cooperation which promotes the formal sharing and coordination arrangements among deposit insurers in relevant jurisdictions. PDIC had earlier forged collaboration with its counterparts from Indonesia, Japan, Korea, Malaysia, Thailand, the United Kingdom, and the USA.
* * * * *
The Philippine Deposit Insurance Corporation (PDIC) was established on June 22, 1963 by Republic Act 3591 to provide depositor protection and help maintain stability in the financial system by providing deposit insurance. Effective June 1, 2009, the maximum deposit insurance coverage is PHP500,000 per depositor. All deposit accounts by a depositor in a closed bank maintained in the same right and capacity shall be added together. A joint account shall be insured separately from any individually-owned deposit account.
PDIC news/press releases and other information are available at the website, www.pdic.gov.ph.
back