NEWS
---
Tweet

PHLPost recognizes PDIC as gov't partner in public service


December 11, 2017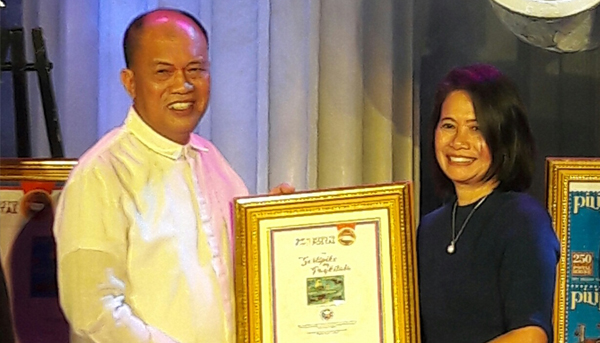 Continued trust and confidence. The Philippine Deposit Insurance Corporation (PDIC) was awarded a plaque of appreciation by the Philippine Postal Corporation (PHLPost) for the state deposit insurer's continued trust and support to PHLPost in carrying out its deposit insurance mandate to the depositing public. The awarding was held to commemorate PHLPost's milestone anniversary celebration for "250 Taong Serbisyo Postal" on November 24, 2017 at its Manila office. PDIC Claims Settlement Department Manager Merlie M. Cañaveral receives the award, on behalf of PDIC, from PHLPost Postmaster General and CEO Joel L. Otarra. In 2011, PDIC and PHLPost forged a partnership for the delivery of deposit insurance payments to depositors of closed banks nationwide. Under the partnership, eligible depositors are paid outright without need to file deposit insurance claims to provide them immediate access to their trapped funds. This is in the form of postal money orders (PMO) sent through registered mail for convenience of depositors. This covers depositors who have valid deposits amounting to PHP100,000 and below, have no obligations with the closed bank, have complete mailing address found in the closed bank's records, and have not maintained the account under the name of business entities.
* * * * *
The Philippine Deposit Insurance Corporation (PDIC) was established on June 22, 1963 by Republic Act 3591 to provide depositor protection and help maintain stability in the financial system by providing deposit insurance. Effective June 1, 2009, the maximum deposit insurance coverage is PHP500,000 per depositor. All deposit accounts by a depositor in a closed bank maintained in the same right and capacity shall be added together. A joint account shall be insured separately from any individually-owned deposit account.
PDIC news/press releases and other information are available at the website, www.pdic.gov.ph.
back