NEWS
---
Tweet

PDIC is BSPís Outstanding Financial Inclusion Partner


July 14, 2017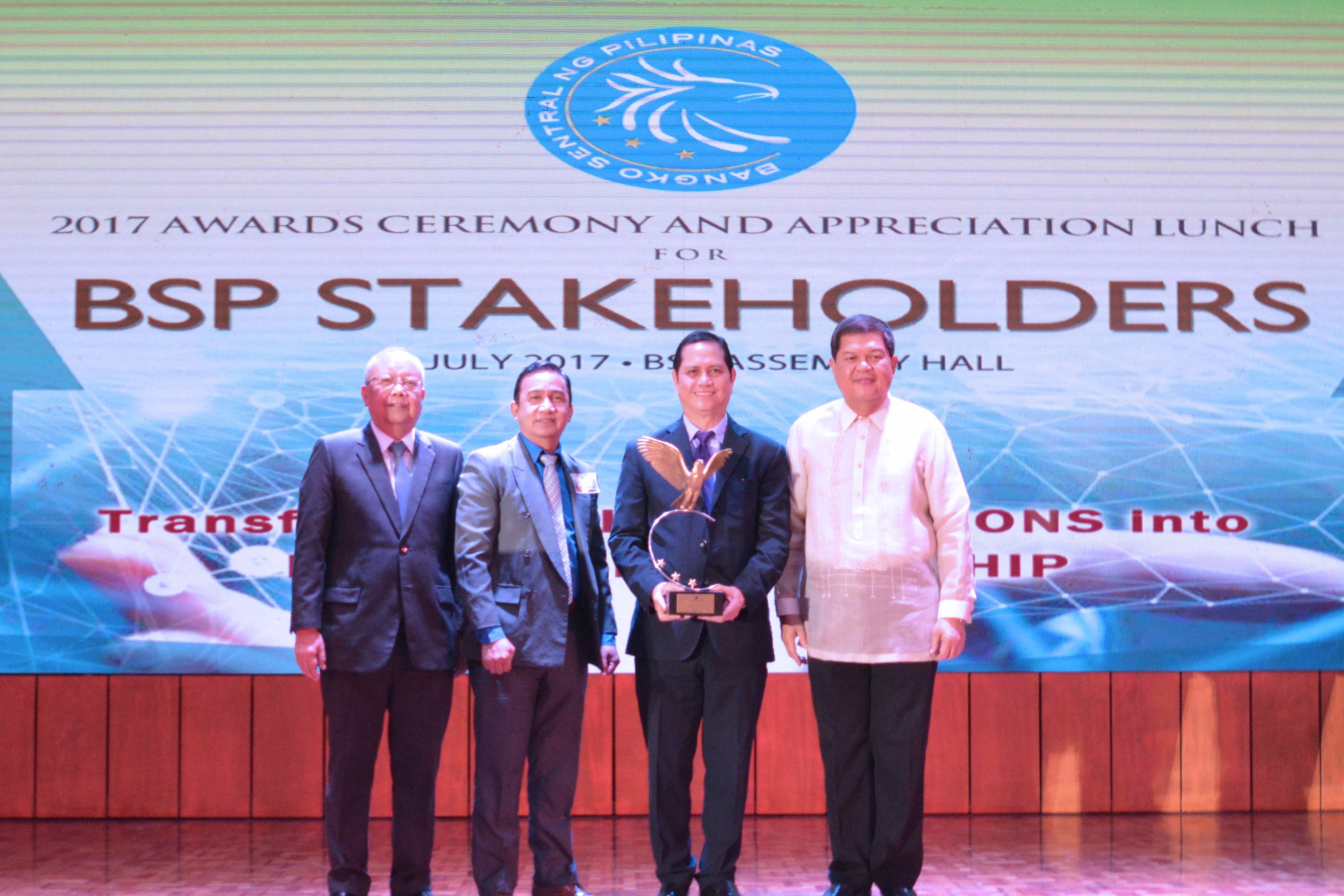 Working together for financial inclusion. The Philippine Deposit Insurance Corporation (PDIC) was named Outstanding Financial Inclusion Partner by the Bangko Sentral ng Pilipinas (BSP) during the 2017 BSP Stakeholders Awards on July 11, 2017. This is in recognition of PDICís contribution to the BSPís work to promote financial inclusion through policy regulation, capacity building and consumer protection. PDIC and BSP are among the partner-agencies implementing the countryís National Strategy for Financial Inclusion that aims to increase Filipinosí access to formal financial services. PDICís Be a Wise Saver (BAWS) campaign, started in 2009, promotes the values of wise saving and responsible banking among students and members of the labor sector and the financially vulnerable. PDIC President Roberto B. Tan (3rd from left) accepted the award on behalf of PDIC. Also in photo are (L-R): Monetary Board Member Juan De ZuŮiga, Jr., PDIC Vice President Jose G. Villaret, Jr. (Corporate Affairs Group), and BSP Governor Nestor A. Espenilla, Jr.
* * * * *
The Philippine Deposit Insurance Corporation (PDIC) was established on June 22, 1963 by Republic Act 3591 to provide depositor protection and help maintain stability in the financial system by providing deposit insurance. Effective June 1, 2009, the maximum deposit insurance coverage is PHP500,000 per depositor. All deposit accounts by a depositor in a closed bank maintained in the same right and capacity shall be added together. A joint account shall be insured separately from any individually-owned deposit account.
PDIC news/press releases and other information are available at the website, www.pdic.gov.ph.
back